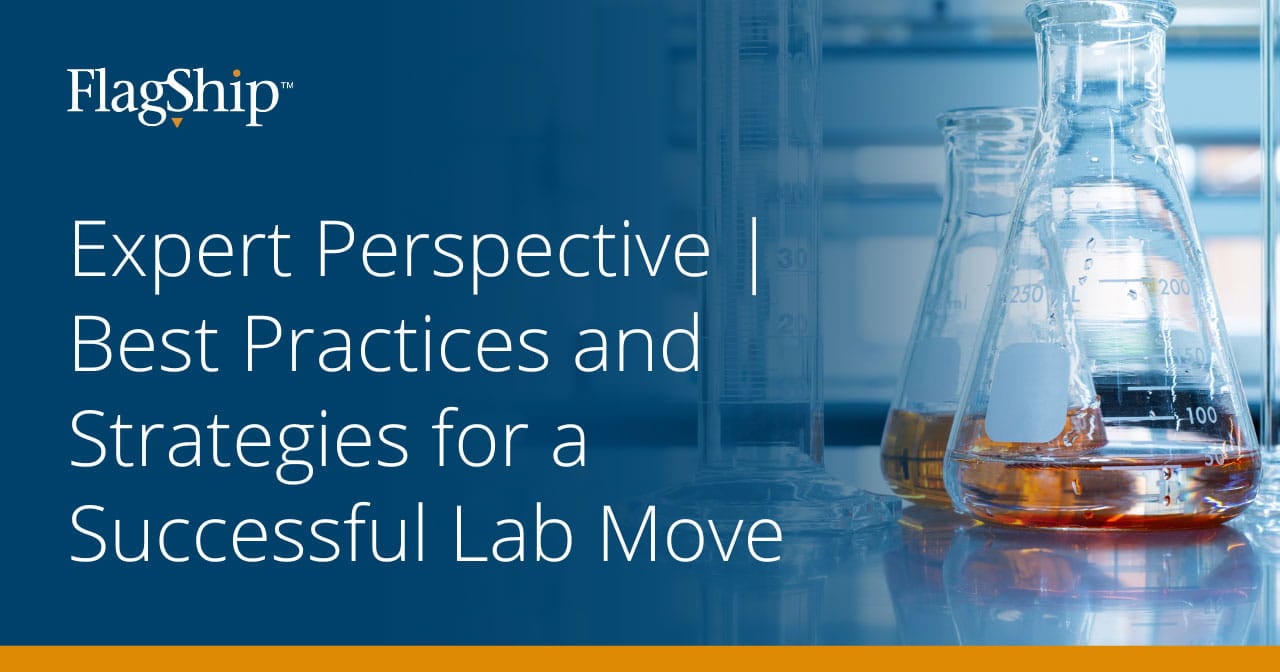 In this edition of "An Expert's P.O.V.," Flagship's Scott Hektner, Senior Director of Business Development, offers steps for a seamless lab transition.

"Keep the scientists focused on the science" is a saying often used by the Flagship Lab Services team. Our goal is to enable you to concentrate fully on your work because the more time you spend at the bench, the more productive your lab will be.
Hopefully, this productivity will lead to the expansion of your research and your lab's growth. Expansion could mean adding space across the hall or a move to an entirely new site. Either way, expansion is an enormous challenge.
A lab is a complex, working puzzle, and to relocate, the puzzle must be taken apart and reassembled in a different environment. Minimizing downtime (or avoiding it entirely) requires special skills and careful planning.
This blog outlines steps you can take to avoid potential hurdles during a move and how to take advantage of this opportunity to improve operational efficiency in your new space.
Step 1: Develop a Detailed Moving Timeline
To start, you need to create a detailed timeline for your move. There are no hard-and-fast rules, but in our experience, a move requires a minimum of three months.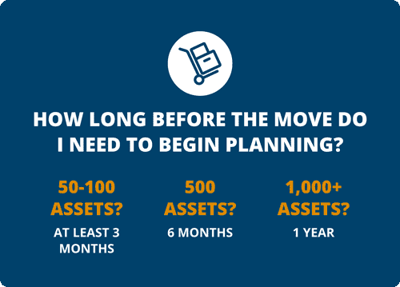 While timelines are flexible, we recommend budgeting 6-9 months for planning and execution (especially if your goal is to minimize or eliminate downtime).
Start by meeting with your relocation team, which should comprise the following stakeholders:
Lab lead (someone who works in the lab)
Facilities maintenance representative
EHS representative
Move administrator
Treat this meeting as an investigation into what your lab workers need from the new space and how their workflows will be impacted by the relocation of equipment.
If you plan on using a third party to coordinate the move, you should involve your partner in the conversation early on. Many small and medium-sized labs can benefit from outsourcing coordination duties, since they typically fall outside of the lab manager's responsibilities. By outsourcing these duties to experts, labs can ensure that they receive the necessary guidance and expertise to achieve their goals while gaining access to the experts' knowledge, network, and resources.
Finally, remember that you'll need to maintain control of what's going where and ensure that everything is done in accordance with regulations for moving items such as chemicals, cell lines, and animals.
Step 2: Assess Equipment & Infrastructure
One of the most critical steps in any move is to create a detailed list of infrastructure and equipment (including specs). Use this as an opportunity to question your team about the roadblocks it faces in its current space.
Once the new floor plan is available, you can work together to solve these obstacles. Make the most of these conversations with your team, keeping in mind that if you do this step well, the rest of the process will be much easier.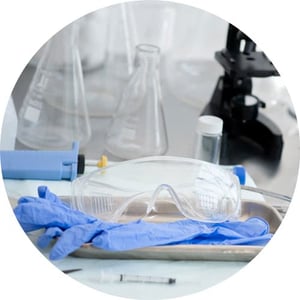 When Flagship Lab Services assists with a relocation, we always start by conducting a lab assessment. This is a full review of the client's lab, including a scoring of operations, a detailed account of equipment and inventory, and recommendations for improvement.
Our assessment gives clients an excellent overview of where their lab operations stand and presents them with a blueprint for implementing new processes and procedures.
Once the move is complete, we also use our lab start-up checklist to ensure that the appropriate equipment, inventory, safety protocols, and facility support are in place and that the lab operates smoothly from the moment it's set up.
As you work your way through the assessment and checklist, use it as a chance to remedy any issues you're currently facing.
Step 3: Final Considerations
Proper planning makes it possible to relocate your lab safely and smoothly. Just ask Taylor Moyer, our VP of Lab Services Solutions.
"Plan out every single step! Take detailed inventory and see whether the science dictates a move in stages," said Taylor. "The goal of zero downtime is attainable!"
Have a maintenance tech on hand. Inevitably, a piece of equipment will be broken or placed incorrectly during the move. A tech will be able to deal with these issues without slowing down your progress. They can also check all the outlets to ensure that the voltage and configuration is correct for each piece of equipment.
Use labels. Each box and piece of equipment should be appropriately labeled with exactly where it belongs in the new lab space. For example, you might label a box "Lab Suite 305, wall A, left counter." Be sure to give yourself and your movers all the information needed to streamline this process and avoid questions that can slow you down and distract you from your goal.
Be positive! This is a critical moment for your organization that provides plenty of opportunity for improvement. Dislike something about your current space? Plan to solve that issue in the new one. Want to implement new inventory controls? Do so when you have an accurate idea of your inventory program.
If we're being honest, there's no such thing as a "stress-free" lab move. No amount of planning will free you from the worry of transporting valuable samples and research data (or sometimes, your coworker's life's work)! But with a little hard work, commitment, and preparation, you can minimize the headache and guarantee a quick, painless transition.
Flagship Lab Services is a leading provider of scalable laboratory support services, including lab setup, moves, and project management.
We specialize in integrated lab support and facilities maintenance to meet the requirements of Biotechs as they progress from R&D through GxP.
For more information about our comprehensive support services, visit our lab services page.