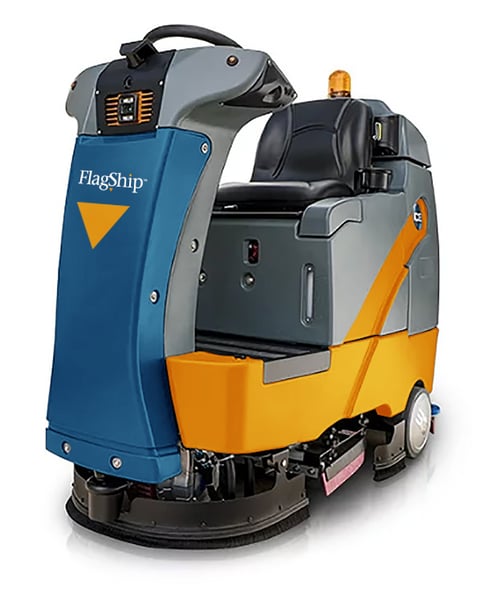 Artificial intelligence (AI) is all around us—even in ways you may not realize. From voice-controlled personal assistants to self-driving cars, we are utilizing artificial intelligence to make our lives convenient and eliminating tasks that we prefer not to do. The same goes for the work environment.
AI is changing workplaces. As it becomes part of more facets of the workplace, there are some significant solutions to increase comfort and create more productive environments for employees. It also opens the door for more insightful facilities and more energy-efficient communities. Facility managers have new opportunities abound and employers can implement solutions that can be more sustainable well into the future.
Since AI is such a vast topic, there are too many to list, so let's start at a ground level solution and talk about: floors.
Many people are aware of the iRobot Roomba and its self-vacuuming capabilities. Create a schedule, set up barrier points, keep it charged and away it goes. It vacuums while you are there or away, it doesn't usually matter unless it runs into a problem. The robot vacuum has helped cut down the number of hours humans spend vacuuming in many households.
However, it did not take the vacuumer's place within the household because it cannot exist without human intervention. It merely caused a reassignment of skills. It may get stuck, need cleaning, need new parts, etc. Now robot vacuum owners have changed from "vacuumers" to "robotic vacuum managers".
A similar thought can be used for large facilities. Introducing robotic floor care can have a range of different impacts on the entire floor care operation, from reducing budget to maximizing efficiency and productivity. Depending on the model and item, it can expertly navigate complex, real-world environments and enhance the overall workmanship of the floor care team. Used as a supplement to human employees, they eliminate the need for workers to perform many simple and repetitive tasks and allow them to focus more on complex, thought intensive tasks. They are designed to work safely and efficiently alongside employees and can still be used manually for unique situations.
The autonomous floor care machine should be capable of speaking directly to your current CMMS and keep all reports consistent up to the minute. This new infrastructure will help facility's managers provide a full picture of the facility's floor care at any time, including in-depth reporting and coverage maps. It will also allow you to reassign some jobs into higher value tasks that will increase customer experience and improve your return on investment.
With this improved technology, facilities will now need staff that can operate and maintain the new floor care machinery. Staff needs will evolve from only "floor care" to include "robotic floor care specialist" skills. The main benefit here is that a good machine should require less hours of maintenance, and therefore those skills can be used in higher level functions and help improve the overall business.
While the machine is working, other work can be done at the same time and provide extended multi-tasking. Some of those help the machine, others can be separate. Going back to the Roomba, when it starts, removing obstacles like toys, furniture, or large debris will only help the machine achieve its goals. While it runs, the owner can be doing laundry, working online, preparing food, etc. Similarly, robotic floor technology at a facility can allow others to perform tasks while floors are being maintained.
The possibilities are quite "brilliant", similar to the well-cared floors that could be beneath the feet of everyone in the facility. Their potential to promote human involvement to higher-level functions means more effective use of human capital and reduced costs in the long term, particularly as the cost of these units declines with wider adoption and scaling of production.
When your facility is ready to implement the high-tech knowhow of autonomous floor care, make sure you work with a company that understands how to create knowledgeable teams composed of high-tech devices and high-value tasked staff.