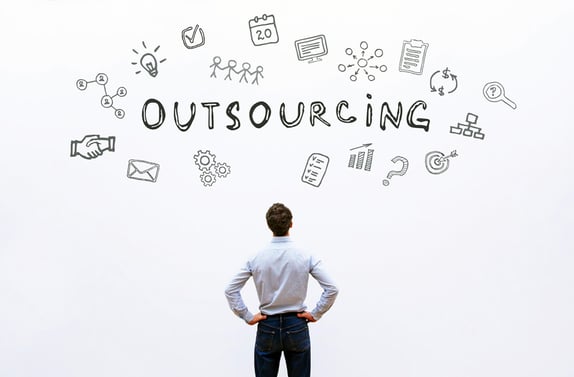 Of course, a facilities management company likes talking about the benefits of outsourcing your facilities management, but we also know that it's not for everyone. There are circumstances when it may be a better choice to manage some or all your business' facilities jobs yourself. We understand that outsourcing may not be the best approach in all situations, but it is important that you create the best facility strategy for your business.
Let's talk about different situations when outsourcing your facilities management may not work for you and when they can be beneficial:
Small businesses may be too small for outsourcing. Due to size and other limitations, your business may not have the capacity to outsource facilities management duties. You may have to rely on internal staff to take on these tasks in addition to their everyday jobs. However, if you're expanding your business, you will want your staff to focus their time and energy on ways that will make you more successful, and most of the time that is not facility maintenance. During these time of fluctuation, you'll want the security of an expert facilities management company that can adapt services in a challenging environment to help your business thrive.
For large organizations, outsourcing facilities management can be an excellent way to reduce operating budgets, allow employees to focus more on the core values and improve their competitive position. Your facility is an asset, that when properly managed, can add strategic value to your organization. Outsourcing can offer benefits such as lower costs through larger purchasing power, reduce building life-cycle costs, provide access to personnel with facilities-specific knowledge and offer flexibility of staffing, equipment and products that will be based on your changing needs.
Your core business model includes some facilities services. If your business is already an expert in the areas of janitorial services, plumbing, landscaping, construction, maintenance, etc., it doesn't make sense to outsource those areas of your facility. You already have that expertise inside your business. You can draw from your employees' knowledge and skills without making them feel out of their element. However, while your core business may be experienced in one section of facilities management, it may not be fluent in every sector. You may be able to strategically outsource specific services with contractors and management companies that complement your services, improve your capabilities and offer strategic alliances.
If your business is in another field, it may not make sense to direct resources from your core business to non-core activities. For example, if your business is developing and manufacturing autonomous vehicles, the cost of having researchers, developers and programmers empty trash every day, clean bathrooms, repair plumbing issues, etc. would most likely not make sense. Your employees may also not have the skills needed to manage your entire facility and maintain your assets successfully, and those repairs can cost a lot more in the long run.
There is a deep-seeded need to retain greater control over tasks like cleaning, lighting, HVAC maintenance, plumbing, landscaping, etc. Some property owners are very hands-on. If there is an internal need for control of every operation within your facility, it may not make sense to give some of that management to an outside company. However, you may find you gain more control by giving up a little. Most facilities management companies are meticulous in their data, analytics and record-keeping. While you may not have your hands in the the day-to-day nitty-gritty, the information you receive can produce event greater insight to your operations.
If you do not have issues with turning over the facilities management to an outside organization, you may find that their methods can add greater value to your business. The benefit of an added business model and the synergy between the two workforces can create a competitive advantage for itself. It can lower operating costs, improve the life of well-maintained assets and deliver more tactical, facility-focused strategies. It can also help businesses find a fellow advocate in building stronger community relations, maximize returns on investment and establish long term competitive advantages in the marketplace.
It all comes down to convenience, cost and the level of facilities management knowledge your business contains. Finding the right balance can help improve best practices and reduce capital planning costs.
Want another opinion?
The recent article "Change for Good", lays out a lot of the potential payoffs to weigh when choosing contracted services for the operations of an aviation business. It provides a well-balanced perspective on outsourcing facilities services and new ideas that are changing the customer experience.