How Technology is Making Lost Bags a Thing of the Past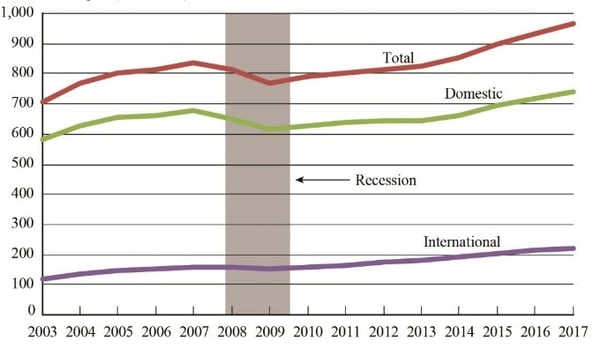 It might sound simple and antiquated but many a manager has found the value in the simple to-do list. A to-do list can act as a compass that keeps the day moving in the right direction and helps consistently yield positive results. To-do lists are highly effective so if you haven't already, consider adding them to your daily work routine.
Nothing can ruin a trip more than a lost bag. Misplaced bags are a chronic issue but recent advances in technology along with Resolution 753 are making them less of a headache for airlines and travelers alike. The investments being made by airlines and airports will soon make lost bags a thing of the past—a fact that is music to the ears for the nearly 7 billion passengers.
"Mishandled or lost baggage has always been a major concern for passengers throughout the world"...
At the center of this is Radio-Frequency-Identification (RFI). This technology allows airlines to convert from the previous industry standard of optical bar-code scanning to a system using radio frequencies to track and identify bags. The solution has been working thus far as in 2017, less than 6 bags per 1,000 passengers was mishandled.
"In 2016, a major airline invested $50 million in RFID technology at 344 stations, tracking 120 million bags annually"...
Resolution 753 also plays a major role in the increased efforts by airlines to better manage baggage handling processes. Set forth by the International Air Transport Association (IATA), Resolution 753 says airlines must track baggage at four key points including:
Passenger handover of baggage to airline: When the passenger arrives including self-check-in, curbside, or conventional processes.
Loading baggage onto the aircraft: No matter the point of departure, the airline is responsible for making sure the baggage begins the proper journey.
Delivery of baggage to transfer area: The airline is responsible for all passenger baggage arriving at the planned destination in the same condition they were in upon departure.
Return of baggage to the passenger: Finally, a safe return of baggage to the passenger so that they can continue onto the next leg of their journey.
"Airlines have become much better about baggage handling by relying on technology. Today, airlines are 70% less likely to lose bags than they were a decade ago"... Travel and Leisure
What the Future Holds
Air travel can make life easier but nothing's easy when bags are lost. Thanks to RFI and Resolution 752, airlines and airports are now taking steps to protect their passenger's baggage as they continue to entrust them with a crucial part of their journey. As more passengers continue to fly, the comfort that comes from knowing their bags will be flying with them is important. On average, airlines pay a staggering $2.1 billion due to lost wages. Using technology to lessen the rate of lost bags will increase their profits and improve their relationship with their most valued asset – their passengers.
---
Hall, Gina (2016, October 24) Retrieved from https://www.bizjournals.com/bizjournals/news/2016/10/24/the-technology-exists-to-reduce-lost-luggage-but.html
Garcia, Marisa (2017, May 4) Retrieved from https://www.travelandleisure.com/style/travel-bags/airlines-lost-baggage-2016