While every day is an opportune time to drive your diversity and inclusion (D&I) initiatives in the workplace, Pride Month is an especially advantageous time to engage employees and drive new D&I initiatives.
As discussed in a previous blog, Pride is about more than just rainbows and parties — it's about radical change – and that drive to "do better" and "be better" can be infectious.
But as you are inspired by the spirit of Pride, recognize that despite progress, many LGBTQ+ employees still face many challenges at work. In a recent survey by Glassdoor, the data collected revealed that LGBTQ+ employees are less satisfied at work when it was compared to their non-LGBTQ+ counterparts.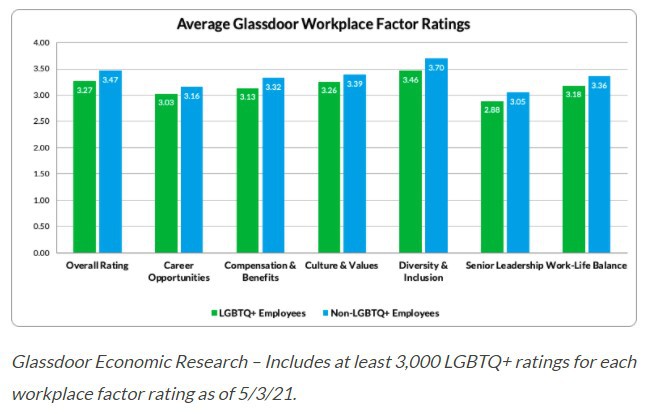 Even though certain companies and industries are highly rated in the Glassdoor data, there is still progress to be made. By engaging all employees and getting them involved in driving your D&I initiatives, you can continue to improve equity in your workplace.
Look internally and solicit employee feedback
Before you look to publicly promote your diverse culture and inclusive atmosphere, make sure your employees feel that way as well. Take a look at your internal policies and solicit feedback from a diverse group of employees, including those that identify as part of the LGBTQ+ community.
Your employees, especially front line, ground floor and those of diverse backgrounds, will know what is working well and what still needs improvement.
Bias and discrimination aren't always apparent, so it is crucial to provide a safe space for employees to give their honest feedback, actively listen and work directly with employees to help them feel more accepted. By listening and implementing employee feedback, you will demonstrate your commitment to improve the culture, community and support within the company.
When employees are heard and know that they have a direct impact on the future culture becoming more inclusive, it improves their outlook and increases their desire for engaging in these initiatives.
Recruit from a more diverse pool of applicants
When you recruit and hire a diverse workforce, it can have a big impact on all your initiatives, including inclusion.
When an applicant chooses where to work, it can be an incredibly important and personal decision. While salary, schedule flexibility, and company benefits play a major role in a potential applicant considering your company, culture and the company's drive for creating a better world are also ranked high on what applicants look for in their future employer.
Make sure your D&I policies support recruiting and retaining a diverse workforce, including those that identify as LGBTQ+, in order to further drive your inclusive culture and improve your company for the better.
Say "No!" to tokenistic marketing or "rainbow capitalism"
Many groups within the LGBTQ Nation have expressed their distaste for organizations who simply swap their social media avatar for a rainbow flag or feature rainbow colored logos, products, or rainbow themed campaigns, without implementing real change or taking action to support the LGBTQ+ community.
Pride month is an opportunity to create more substantial commitments to the queer community. There are hundreds, if not thousands of LGBTQ-supporting foundations that help to rectify specific offenses or support marginalized human beings. Find a cause that aligns with your corporate values and work with that group to spread awareness, educate your workforce and support their initiatives.
Inclusive activities that will positively impact the LGBTQ+ community may include monetary donations, volunteering at community events and/or working with LGBTQ+ advocacy organizations.
At Flagship, we not only created messaging to drive awareness and inclusivity, but we also created a shirt and mask design that aligns with our culture of diversity and inclusion.

These shirts are available for purchase and 100% of the proceeds will be donated to OnePulse Foundation, which supports the LGBTQ+ community and commemorates the lives lost at Pulse five years ago.
It is well known that actions speak much louder than words. True inclusion will require a long-term investment and you will need to consider the human experience. This Pride Month we ask you and your business to make equality, inclusion and diversity a priority all year long.
These are unique times but Flagship's customizable approach to the changing needs of occupants and your facility will help you protect your assets now and into the future. From digital solutions to proving single-source Facilities Management, our teams tailor your program to meet your needs and grow with your diverse organization.
Email a facilities expert today and get the help you need to keep your facility healthy and safe, no matter your location.