In this edition of "An Expert's P.O.V.", Flagship's own Mike Thompson, President/IFM discusses the challenges in store for returning to the office and how facilities management teams can improve the process and provide a seamless experience for employees.
As more companies define firm timelines for their return to the office (RTO), attention focuses on Facility Management teams.
At this point, facilities management (FM) teams surely understand the importance of supporting their workspace differently with a keener focus on healthy indoor air quality, including increased fresh air turns and additional filtration.
Most offices have signage posted to encourage maintaining social distancing and plexiglass appears in most reception areas. Stations with masks, wipes, and cleaning materials are found around many offices and allow individuals to control the level of disinfection and protection they prefer.
Cleaning is Still Critical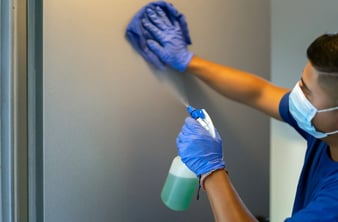 FM teams established strong communication programs to let workplace occupants know what to expect when they return and how they need to behave in an increasingly vaccinated world. And the CDC recommends a layered approach to reduce virus exposure, making cleaning and disinfection, especially for high-touch areas, an important element of an overall pandemic response strategy.
Many companies are building regular work-from-home protocols into their occupancy strategy and managing those protocols to ensure workspaces are clean and ready for different users on different days – and all that falls on the shoulders of the FM team.
Labor Market Challenges
FM teams are typically stretched thin. This is exacerbated by the tightening skilled labor market. (Remember in late 2019 or early 2020 – when it was difficult to find great building trade talent? It's even more difficult now!)
Increased demand on facilities managers – to address all that stuff above – in addition to regular responsibilities around Safety-Cost-Quality-Delivery-People. Most FMs have more on their plates than ever before.
Professional Partners Can Help
IFM needs FM: a force multiplier. And a good partner in providing integrated facilities management (IFM) services can serve as just that: a force multiplier.
With workplaces often unoccupied over the last year, some maintenance has been deferred. As offices prepare to re-open at something closer to capacity, work order backlogs need to be addressed, and maintenance timelines and budgeting should be rescoped.
If spaces have not been prepared for occupants, that needs to happen now. Some workplaces may just need a spruce-up like a carpet cleaning, touch-up painting, restroom upgrades (touchless faucets, soap, and paper towel dispensers), etc. Those types of tasks are most likely on the FM's increasingly urgent to-do list.
However, consider the expanded list of tasks that also need to be addressed. With changing office uses, deferred maintenance, and other safety and health-related tasks that need to be addressed, having a great IFM partner to be that "force multiplier" should be part of the overall return to office strategy.
Where can you find that force multiplier?
Well, you can start with Flagship Facility Services.
We have an infrastructure designed to support both as-needed staffings for project work and full-time FM staff. Services and solutions can be available at your facility, whatever your needs:
Flagship can provide the skills and people you need at your site and be your "force multiplier."
As vaccinations continue to increase, time to prepare for employees to return to the office is running out. FMs need to act now. Great partners like Flagship can make your return to office successful . . . and as we all settle into a different type of office experience, Flagship can be that "force multiplier" that adapts with you, offers you guidance, brings expertise, and ensures your workplace runs smoothly every day.
Flagship's customizable approach to your facility's needs will help you protect the health and safety of your occupants so you can operate responsibly.

We have experienced and professional teams ready to help your business with your IoT requirements and your integrated facilities management needs. If you have any questions, please email a facilities expert and get the help you need to create and maintain a healthy facility.