Now that the White House is unveiling its guidelines for opening up America again, responsibility is being placed on local governments and business owners to devise and implement plans to reduce the spread of COVID-19 and keep facility occupants safe.
Safety and health concerns resonate strongly with employees based on a number of national surveys.
The Surveys
Employees have a strong fear of returning to facilities with hundreds or thousands of fellow co-workers. While the survey numbers differ slightly, it is evident that in this new COVID-19 world, there is a heightened sensitivity about cleanliness, touch and proximity.
Forrester's most recent survey of working adults in the US showed that 41% are afraid to go back to work.
Georgia-Pacific Professional (GP PRO)surveyed more than 500 employees who worked in an office prior to the pandemic. 73% said they will be somewhat or very concerned about illnesses spreading in their workplaces. Almost half (47%) were somewhat or very concerned that their workplace would not take adequate steps to ensure a hygienic building.
Snagajob's survey explained that while 40% of employees are ready to go back to work, 47% are concerned that they will have to return to work before they feel it's safe. The Snagajob survey also reveals viewpoints of business owners, showing that 61% are concerned with the health and safety of staff and customers.
Combatting the Fear
As employees return to their offices, they will be worried about the cleanliness of their workspaces. Make sure your reopening plan encompasses the safety and health of occupants as well as an empathetic ear for employee concerns. You will need to consider:
Visibly enhancing cleaning protocols
Accommodating modifications
Defining and navigating risk
Clearly communicating changes to staff and executives
Strategic Initiatives
Whether you've been fully or partially shuttered, there are basic facility services that can build trust with your workforce. These services need to be planned and scheduled before your organization reopens and joins the rest of the country in navigating business post-COVID 19:
Finalize your realigned scope of work to incorporate COVID 19 cleaning processes such as high touchpoint disinfecting, workplace PPE and social distancing
Deep clean the entire facility
Disinfect expected areas of high use such as lobbies, elevators, restrooms, reception areas and employee entrances
Install sanitation stations and/or surface dividers (88% of the GP PRO survey respondents said they would feel safer if hand sanitizer was available near the main entrance)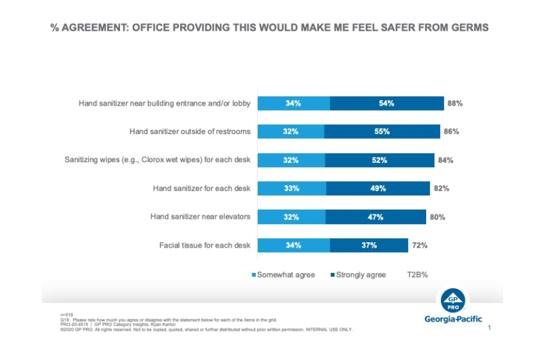 The PUREClean Solution
Companies will need to recover faster, communicate effectively and produce products/services seamlessly — all while keeping employees and their families as safe as possible. It's a big task, but with the right partners this challenge is achievable.
Flagship's PUREClean is able to meet your reopening needs with a four-pronged approach to post-COVID-19 facilities services. It realigns your scope of work to focus effort and expense on the high touchpoint and high traffic areas of your facilities. PUREClean supports your commitment to your occupants' health and wellbeing throughout a normal workday and alleviates heightened concerns related to workplace hygiene.