If 2020 has taught us anything, it's that frontline and custodial workers should be highly appreciated for everything they do every day.
The health of facilities and their occupants has become more important than ever. Get the Healthy Workplace Guide to Stay Open Responsibly and provide a helpful guide for your facilities teams and frontline heroes.
As COVID-19 spread across the world, it was janitorial and cleaning crews that faced the danger head-on and helped to make public areas COVID-clean, safe, and disinfected. They continue to protect their communities and have come up with creative ways to deal with the changing scope of work.
It's a Big Job
Cleaning is a tough job in normal times, but in the COVID-19 era, it means applying and reapplying disinfectant to surfaces that people touch repeatedly. It means being the first to report to and disinfect a contaminated sector or building. It means coming into contact with airborne particles from hundreds or even millions of strangers every day.
Dedicated custodial crews all over the world undertook their work with passion and dedication. For the past six months, they have risked their health to keep our country as clean & safe as possible.
Custodial teams come from all backgrounds and are working diligently to stem the tide of the infection. They help ensure that occupants and their health and safety are being protected. They are selflessly saving lives every day.
Frontline Heroes
Heroes are the people that keep us safe, whether from fire, natural disaster, or viruses that can hide in plain sight.
Covid-19 might be a supervillain, and it has global ambitions, but it's certainly not without its weaknesses. Custodians, janitors, and cleaning crews are continuing to fight the infinity war against all viruses. They are the heroes that help us combat these deadly nemeses on the frontlines each and every day.
Know the Value of Your Heroes
At Flagship, we know how hard our teams work, not just for cleaning, but for taking their service the extra mile and helping others along the way. They are service heroes, and they commit every day to making facilities and airports clean, disinfected, and safe, as well as providing occupants with a personable experience.
In the last 6 months, they have learned new routines, and different cleaning solutions, restructured disinfection processes, and doubled down on creating safe and healthy places for people to work and travel.
Thank you to all custodians, janitors, and cleaning crews for being our heroes, by helping us fight day in and day out against an invisible, but deadly villain.
Appreciate Those Who Have Sacrificed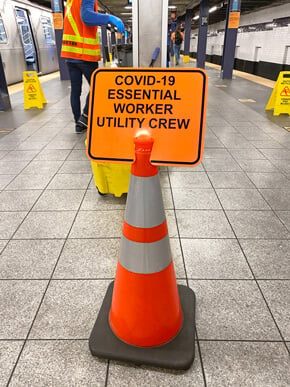 No one started this year knowing that exposure to a single virus could kill them. Now, more than 1 million people across the world have died of coronavirus, many of them frontline workers, like healthcare staff, emergency responders, and custodial workers.
Please take a moment to appreciate all the hard work that has been done and continues to occur each day to help protect your health and keep you and your family safer.
October 2 is National Custodian Appreciation Day. Use this day, week, and month to give an extra special "thank you" to those who are protecting you and so many others (while socially distancing, of course).
Flagship's customizable approach to your airport's needs helps protect employees and travelers now and into the future.
Email an airport facilities expert today and get the help you need to keep your airport healthy and safe.