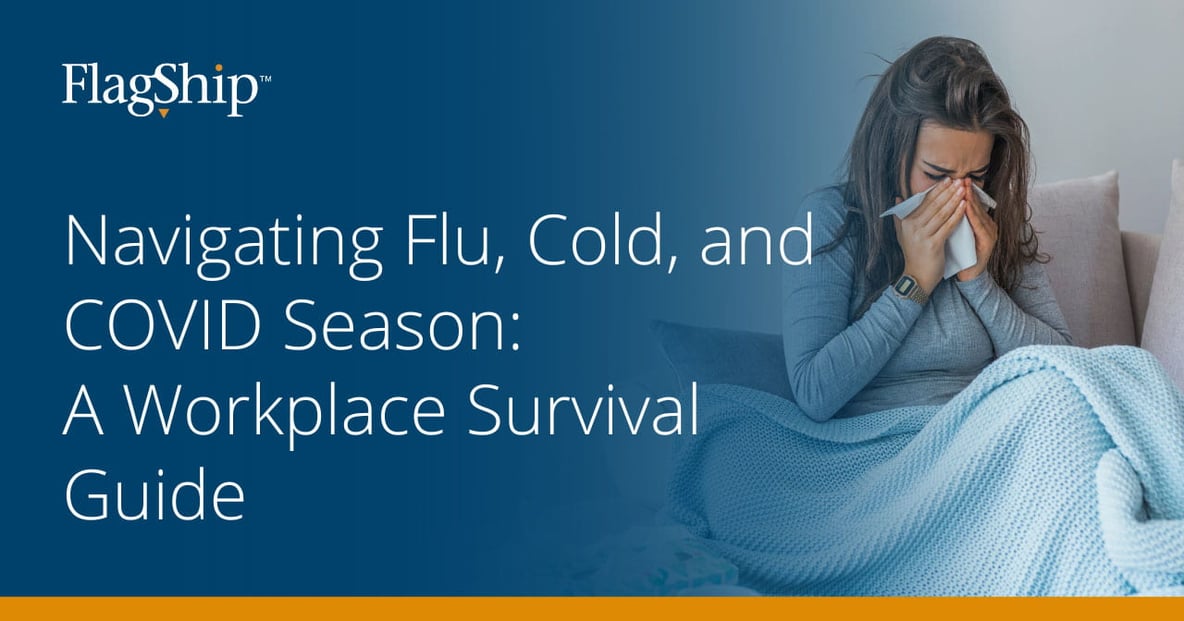 Ensuring the safety of your employees during Flu, Cold, and COVID season is crucial. You can take the first step by staying informed. The CDC provides local COVID case monitoring and influenza activity tracking across the United States. Additionally, USPS offers free at-home COVID tests.
As the leaves change and temperatures drop, we near the inevitable arrival of Flu, Cold, and COVID (FCC) season. For employees and managers alike, this season presents a unique set of challenges, from dealing with illnesses to maintaining productivity in the workplace.
To help prepare for the upcoming season, American scientists look to Australia's flu season as an indicator of what's to come. Unfortunately, a record number of cases marked Australia's 2023 flu season – a potential precursor for the U.S. Luckily, there are proactive and effective ways to keep your employees safe this FCC season.
In this blog, we'll highlight the critical role a clean work environment has in preventing the spread of viruses and provide strategies to ensure employee health and well-being.
The Power of Cleanliness
A clean work environment is the first line of defense against the Flu, Cold, and COVID. To help prepare for the upcoming FCC season, employers should consider re-evaluating current cleaning strategies, assessing areas for improvement, and increasing sanitation efforts.
Increased disinfection of high-traffic areas and high-touch points is crucial in maintaining a hygienic environment and preventing the spread of illnesses. Primary areas of concern in the workplace include restrooms, conference rooms, and kitchens, as well as desks, keyboards, doorknobs, and light switches.
Viruses are primarily spread via respiratory droplets, which can contaminate any surface they touch. Germs and bacteria can live on surfaces for varying periods of time, ranging from a few hours to a few days. They tend to live longer on nonporous surfaces like glass, plastic, and stainless steel than on porous surfaces like unfinished wood, fabric, and carpet.
It's important to know how long viruses and germs can survive on hard, nonporous surfaces: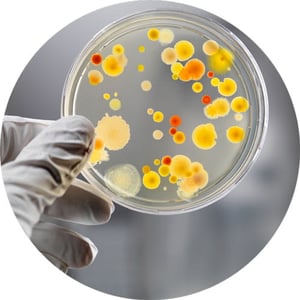 The influenza (flu) virus can last for 24-48 hours.
Cold germs can last for up to a week on surfaces and up to an hour on hands.
The COVID virus can survive on hard surfaces anywhere from a few hours up to three days.
Unfortunately, many common cleaners only remove surface dirt and grime without sanitizing the surface and killing bacteria. So be sure to keep EPA-registered disinfectants on hand and encourage employees to clean their workstations frequently.
One aspect often overlooked when creating a healthy environment is the pivotal role of indoor air quality (IAQ). Poor IAQ can worsen FCC symptoms and negatively impact respiratory health.
Effective ways to improve IAQ:
Improving IAQ is vital for employee health. The EPA states, "Control of pollutants at the source is the most effective strategy for maintaining clean indoor air. Control or mitigation of all sources, however, is not always possible or practical. Ventilation, either natural or mechanical, is the second most effective approach to providing acceptable indoor air."
A clean and breathable environment not only protects employees from illnesses but also promotes a sense of well-being. When employees feel safe and healthy at work, they're more likely to remain engaged and motivated.
Benefits of a clean and healthy work environment: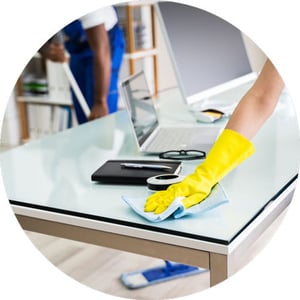 Reduced illness and employee sick days
Increased employee retention and satisfaction
Enhanced morale and productivity
Improved focus and concentration
Leadership is critical in creating and supporting a healthy work environment, especially during FCC season. As a manager, you should lead by example, set clear expectations for employees, and emphasize ways you will protect them.
Assess the situation. First and foremost, it's imperative to follow CDC guidelines and stay current on local Flu and COVID rates. It's up to the managers to help foster a culture of responsibility that's conducive to employee health and safety.
When an employee tests positive for the Flu or COVID, there should be clear protocols in place for informing other employees. Communication should be straightforward and concise to avoid spreading panic. A contingency plan should also be established to address staffing shortages that may occur due to illnesses.
Educate employees. Provide employees with reliable and accurate information regarding Flu, Cold, and COVID, including their different symptoms. This season is an opportunity to discuss employee health benefits in-depth and review health insurance coverage options.
Support mental health. This time of year can be challenging for everyone, negatively impacting physical and mental health. Use this time to highlight any mental health support and resources offered. Managers should create a stigma-free environment for discussing mental health.
Check out our Stay Open Responsibly Guide to learn more about maintaining a healthy facility to better support employees during seasonal challenges.
Creating a Culture of Health and Safety
FCC season presents an important opportunity to re-evaluate your company's unpaid sick leave policies. Employees who have exhausted their allotted sick days face reduced income, job insecurity, and medical expenses. Addressing these concerns can promote their well-being and enhance productivity.
To protect employee health, it's critical to encourage employees to stay home when feeling sick. Employees who come into work while experiencing flu or COVID symptoms are detrimental to productivity, cause additional stress, and ultimately put the entire staff at risk.
Employees might feel unintentionally (or intentionally) pressured to come to work, even if they're experiencing symptoms – especially if they've already used all of their sick days. Employees with children or elderly family members may have added responsibilities that can further impact their work-life balance, so it's essential to support them in any way possible.
Additional ways to support employees: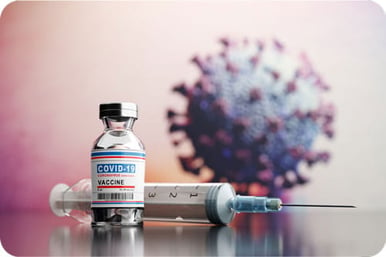 Encourage flexible work options

Allowing employees to work remotely, if possible
Promote the benefits of Flu and COVID vaccinations
Create a line of open communication
Facilitate employee feedback and suggestions
Involve employees in the conversation and setting strategies
Provide masks, tissues, and disinfectant wipes
Discuss ways employees can stay healthy
To mitigate the impact of the Flu, Cold, and COVID on employee health, it's essential for employers to promote preventative measures, such as vaccination, good hygiene, and frequent cleaning. Supporting employees with flexible work arrangements, sick leave policies, and mental health resources is also critical to help them cope with the physical and emotional challenges posed by these seasonal illnesses.>
Stay Clean, Informed, and Prepared
If the COVID pandemic had a silver lining, it's that employers are now fully prepared to tackle the challenges of seasonal illness. This newfound ability has enabled businesses to thrive in the face of adversity.
This FCC season, remember that looking out for employees isn't just the right thing to do; it's key to the success and continuity of your business! By prioritizing a clean work environment and supporting employees, you can create a workplace that is safer, healthier, and more productive.
If you want to keep your employees safe this FCC season, then you need to act fast! Trust Flagship to expertly guide you through the challenges of seasonal illness.
Drawing on our decades of experience, we developed PUREClean – a four-pronged approach to cleanliness that can be tailored to meet the unique demands of your facility.
For more information about this approach, visit our PUREClean page.