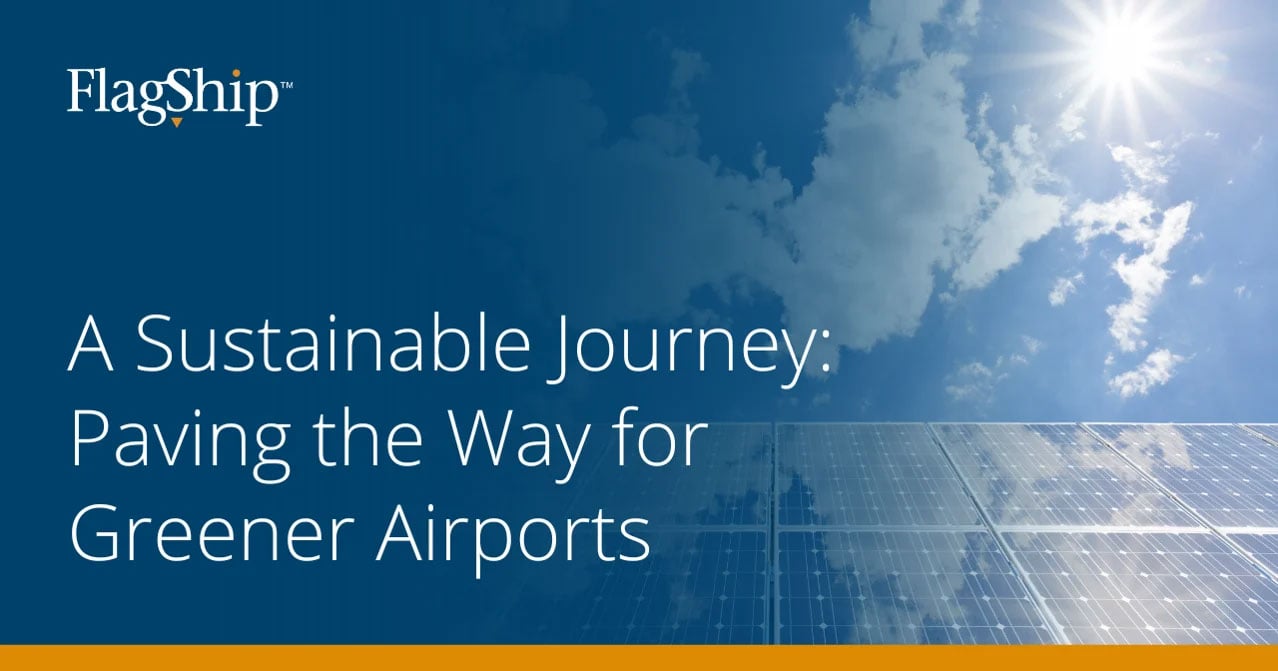 Sustainability has emerged as a buzzword in the business world, particularly in the aviation industry. Considering the sector's rapid growth and its undeniable impact on the environment, it's imperative to delve deeper into this issue and prioritize sustainability across the business.
To address environmental challenges, many airports are implementing eco-conscious measures and sustainable operations aimed at minimizing their environmental footprint, fostering economic stability, and improving social well-being.
This blog will explore the effect airports have on the environment, the benefits of sustainable operations, tips for implementing sustainable practices, and examples of sustainable airports.
Airports & the Environment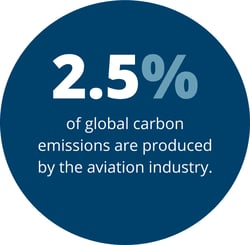 Airports – regardless of their size – leave a lasting impact on the climate, both locally and globally. Comprised of many complex and interdependent systems, they use a staggering amount of energy and resources, all while contributing greatly to economic growth. As of 2022, the aviation industry accounted for 2.5% of global carbon emissions with increases projected annually. While aircraft fuel burn is the industry's primary source of greenhouse gas emissions, ground operations also contribute to its carbon footprint. Contributors include heating and cooling systems, planes taxiing, electricity use, waste, and water consumption.
Benefits of Sustainability in Airports
Implementing sustainable airport operations has many benefits, especially to the environment. But they extend far beyond the environment to include long-term cost savings and increased efficiency through> reduced energy and fuel consumption. By establishing sustainable operations, airports can guarantee regulatory compliance, avoid hefty fines and penalties, and unlock opportunities to attract investors and secure government funding.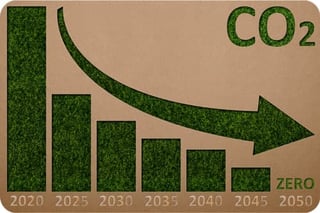 Additional Benefits:
Improved Indoor Air Quality
Enhanced customer satisfaction & employee retention
Improved brand image
Reduced carbon emissions
Economic benefit
These benefits not only promote financial stability for airports but also demonstrate their commitment to environmental, social, and economic responsibility.
Eco-Conscious Practices & Green Initiatives
Airports have a unique opportunity to lead the sustainability cause for the aviation industry. The Federal Aviation Administration (FAA) created the Aviation Climate Action Plan to help combat environmental concerns and set the industry on a path to achieve net-zero emissions by 2050. Part of their Action Plan is providing grants to eligible airports and encouraging programs like Noise Compatibility and Voluntary Airport Low Emissions (VALE).
A few of the practices and initiatives that airports have implemented to make operations more efficient are:
Ground Transportation:
Providing easy-to-navigate terminal entrances for passengers, decreasing the amount of time vehicles are maneuvering throughout the terminals.
Encouraging passengers to travel through public transit and supplying electric cars for employee usage.
Water, Energy, & Waste:
Employing water conservation strategies like using reclaimed water for irrigation and installing water-saving fixtures in restrooms.
Utilizing renewable energy sources such as solar panels and geothermal heating and cooling systems.
Creating robust waste and recycling programs.
Installing energy-efficient technologies, including LED lighting and enhanced HVAC systems.
Green Buildings:
Redesigning outdated infrastructure to slow down the deterioration of terminals and promote sustainable operations.
Using eco-friendly materials and meeting green building standards during construction and renovations.
One of the best ways for airports to achieve their sustainability goals is to work hand-in-hand with their customers, employees, stakeholders, governments, and communities.
Airports Achieving Sustainability
While airports have been crucial in connecting people and places, they have also contributed to sizable environmental degradation. As a result, many airports worldwide are taking action to reduce their negative environmental impact.
A few of the airports leading the way: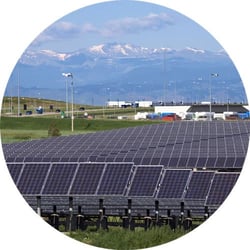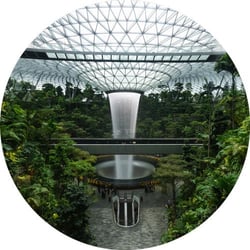 Singapore Changi Airport. As part of its excellent sustainability program, this airport has incorporated lush greenery, rooftop gardens, and free-roaming butterflies. These features improve indoor air quality while enhancing the passenger experience.
A Pathway to Progress
The aviation industry faces a significant challenge in addressing climate change. However, airports are stepping up and leading the way in promoting sustainability, paving the way for a greener future. To accelerate progress, it's crucial to raise awareness among airport staff and travelers about the significance of sustainability and its far-reaching effects. By focusing on education, airports can inspire change within the broader community.
At Flagship, we understand the aviation industry's massive impact on the environment and acknowledge our responsibility to help mitigate it.
Flagship Aviation Services provides economic facilities maintenance and janitorial services using EPA-approved products and sustainable technologies to help combat our carbon footprint.
Talk to a Flagship expert today to explore the sustainable solutions we can offer your airport.