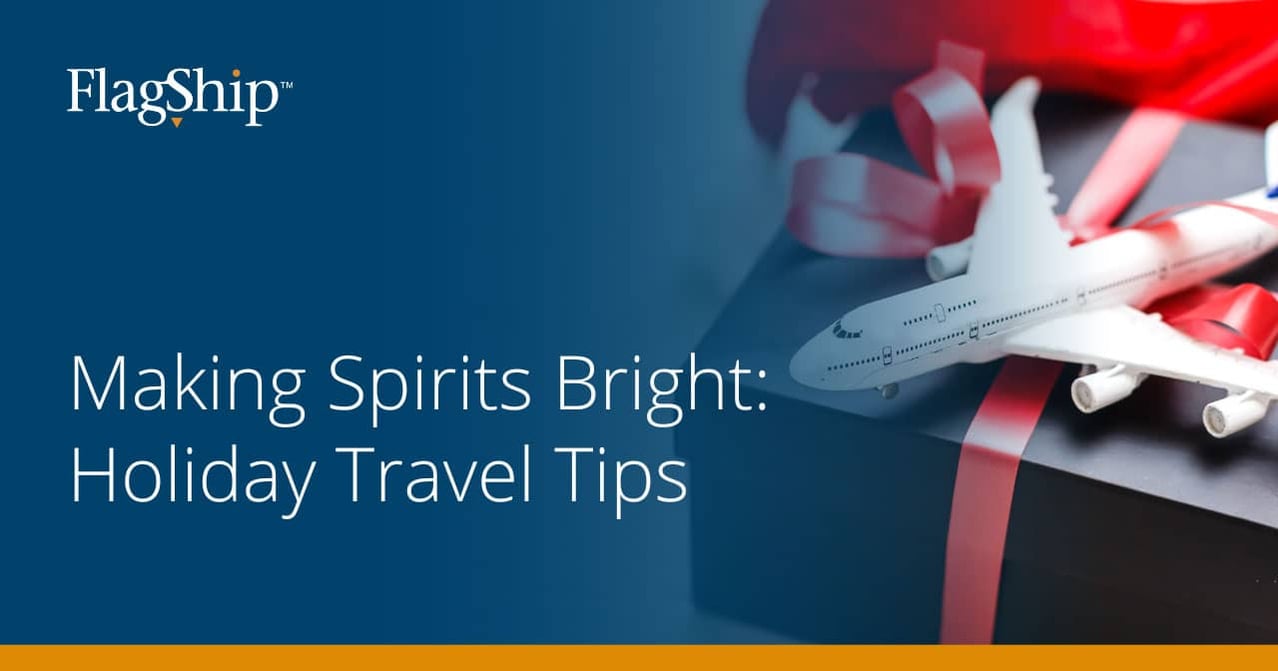 Download the MyTSA App for a list of prohibited items, security checkpoint wait times, and flight delay information.
The holiday season is supposed to be a time of joy and celebration. However, the stress of traveling can easily overshadow this happiness. Airports, in particular, can quickly turn into chaotic environments due to the increased number of people, unpredictable weather conditions, and frequent flight interruptions.
Careful preparation is the key to a stress-free and enjoyable airport experience. It's essential to be aware of the potential pitfalls and take steps to ensure a hassle-free journey.
At Flagship, we're experts in the passenger experience. With that in mind, we've prepared this blog with practical tips to help you prepare for your holiday travels.
Before Your Flight
Your travel journey begins long before you arrive at the airport. Following a few simple steps can transform your airport experience from stressful to seamless.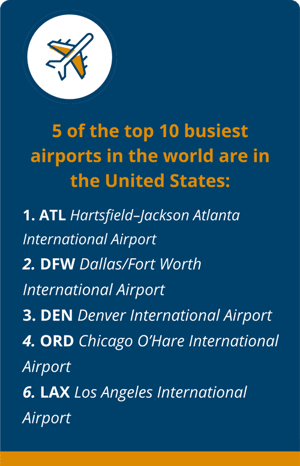 Download airline apps. Most major airlines offer apps you can download to your mobile device. Within these apps, you can find helpful information regarding luggage restrictions, flight updates, carry-on policies, and customer support.
Browse airport websites. Many airports have websites, or apps, that can help you navigate their facilities and terminals. Using their website or app, you can easily locate restaurants, shops, customer service, nursing rooms, pet relief areas, and airline lounges. You can also find information on accessible accommodations.
Sign up for travel alerts. Air travel disruptions such as flight cancellations, delays, severe weather conditions, and last-minute gate changes can occur, especially during the holiday season. To help you stay informed, most airlines offer the option to opt-in for text alerts or receive notifications through their mobile apps.
Airports are continually reshaping their facilities to enhance the passenger experience. Keep an eye out for quiet areas, meditation rooms, designated children's play spaces, and sensory rooms.
Security Checkpoints
Navigating a busy airport adds an extra layer of stress when traveling. Knowing which airports have high passenger volumes can help ease that stress. Arrive earlier than usual to ensure that you make it through security and to your gate with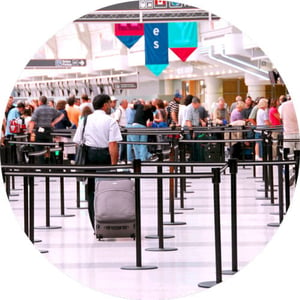 ample time.
It's important to note that airlines have a specific cut-off time for luggage check-in, typically around 30-45 minutes before the scheduled departure time. If you're late, your checked luggage may not be accepted. Also, keep in mind that the aircraft doors close 15 minutes before the scheduled departure time, and after that, no one is allowed to board the plane.
Enrolling in TSA PreCheck is another way to make the security checkpoint less of a hassle, especially when flying with children. With TSA PreCheck, the wait times can be shorter, and you don't have to remove shoes or remove electronics from your carry-on.
Staying Healthy
With thousands of people passing through the airport every day, the likelihood of catching an illness multiplies. Unfortunately, the holidays coincide with Flu, Cold, and COVID season.
Airports are breeding grounds for germs and bacteria, so it's vital to take all the necessary precautions to keep yourself safe.
Ways to stay safe:
Avoid high-touch areas such as doorknobs and handles.
Get your Flu shot and COVID booster at least two weeks before flying.
Choose the window seat; sitting in the aisle seat exposes you to more passengers.
Turn on the overhead air vent on a low setting to improve airflow.
Use a saline-based nasal spray to protect your mucus membranes.
Wash your hands often.

Use an alcohol-based hand sanitizer with greater than 60% ethanol when soap and water are unavailable.
Airport hot zones:
Self-check-in screens
Doorknobs and handles, particularly in the restroom
Water fountain buttons
Escalator and stair handrails
Security bins
Armrests in the waiting areas
Airplane hot zones:
Tray tables
Seatbelt buckles
Back seat pocket
Toilet flush button
Headrest touchscreens
The best way to stay healthy while flying is to be well-rested, hydrated, and relaxed. Lack of sleep can weaken your immune system, making you more susceptible to illness. Staying hydrated supports immunity, while stress can have the opposite effect.
Guarantee a Safe and Stress-Free Holiday Season
Traveling during the holiday season can be very demanding, and passengers must be well-prepared and organized to ensure a hassle-free journey!
However, there are factors outside the passenger's control that impact travel, such as the quality of service provided by the airport. Ultimately, it's in the hands of airport operators to ensure a seamless passenger experience.
Airports should be focused on creating a welcoming environment, which can improve passenger satisfaction and take their reputation from chaotic to calm. Another way to ensure the best experience for passengers is to partner with an experienced facility services provider.
Flagship specializes in airport environments, passenger satisfaction, and keeping employees and travelers safe. With more than 30 years of aviation experience, we understand airports' unique operational challenges.
In fact, we support 13 of the top-ranked airports in the J.D. Power 2023 North America Airport Satisfaction Study. Not only do we offer comprehensive janitorial and maintenance services, but our frontline employees are trained in customer service and prepared to help passengers navigate the terminals.
We're dedicated to supporting airports and assisting passengers throughout the holiday season and beyond. Contact us to learn more about how we can improve passenger satisfaction at your airport.